A data management framework is a model of the people, processes and policies that you need to succeed at managing enterprise data. We put data management frameworks together to help ensure you have all of the right elements you need to deliver great data to your business.
The Cognopia data management framework outlines what your organisation should put in place. You need to right-size each of these elements and fit it around the existing structures and decision-making frameworks your organisation has today. The basic components of the framework are as follows:
Corporate Strategy and Objectives – everything must be guided by this direction
Data Strategy – how will we leverage our data strengths and overcome our data weaknesses to support the corporate strategy?
The Data Function Target Operating Model – what capabilities do we need to execute the data strategy, and who should fulfil them
Data Governance – the business people and roles we need to set the rules about data. 
Data Management – the technical people and roles that will execute the rules set for our data and ensure they are being met
The data governance committees and bodies – when decisions must be made, who should make them and in what setting?
The data management deliverables – data quality, metadata management, master data management, setting data risk registries and policies and adjusting our data architecture to support our ambitions
Your data crown jewels – focus on the most important data as it flows from the data creator to the data consumer(s)
Change management and continuous improvement – these roles and processes are new, we have to help our people adjust to them and ensure that behaviours change for the better
The corporate organisational model – there's no point designing a framework that sits in a vacuum; it must fit the existing business purpose and blend in.
Read on to learn more about each of these elements and how you can adopt better data management practices in your business.
What goes into a data management framework?
Before you can implement a data management framework for your business, you've got to understand what belongs in one. Take a look at this whistle-stop video to learn more:
Now you've had the quick tour, let's explore each element of the framework in more detail so you know what you need to do.
Corporate strategy and objectives
Think of this as the guiding light for your data management framework. All efforts and expenses you incur in managing data have got to support a business objective. If you clean and manage data that is not helping your firm achieve a goal, you have wasted time, money and resources that could have been better spent elsewhere.
Many data teams struggle to get alignment against the corporate strategy. I get that it can be hard to engage business peers at the top table if you're buried 6 layers deep in the I.T. function. But that's no excuse for misalignment – in most firms, you can identify and align your objectives without interviewing the CEO and Chairman of the board.
How to align data strategy and corporate strategy
If you cannot get face time with senior executives, spend time investigating your annual report. Every public company issues an annual report to shareholders, and this usually lists the major strategic ambitions of the firm. It also talks about expected headwinds – what are the challenges your management foresee? How are they going to navigate these? 
Here's an example of McDonald's "Accelerating the Arches" strategic plan. It's pasted on their website, freely available for anyone to see. Grab your own annual report and start to look for similar strategic projections to align against.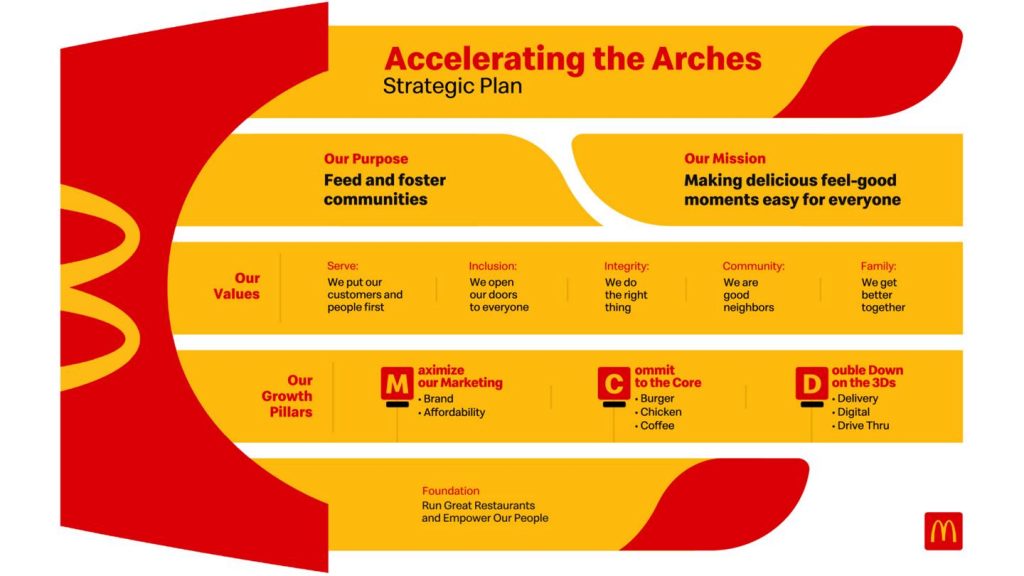 In this case, McDonald's has clearly laid out a desire to grow through marketing, core product offerings, and their delivery, digital and Drive-Thru channels. 
How to create a data strategy
Now you've identified the corporate goals, you've got to align your data strategy to achieve those goals. A data strategy needs a minimum of 3 components:
Diagnosis of the problem your strategy solves or the objective your want to reach
Overarching principles on how you'll overcome this problem, and; 
A sequence of coordinated actions that will get you where you need to be
LEARN MORE: How to Create Ironclad Data Strategy your Execs Can't Ignore
Diagnose the data problem
Let's take another look at the McDonald's strategy and think about where data can play a role. We can see immediately that there are some key data domains that are going to support each of their pillars:
Maximise our Marketing

We will need data on customers, on marketing channels, and on ad campaign effectiveness

Commit to the Core

In order to support their core offering, McDonald's needs data about products, their burgers, chicken and coffee 

Double down on the 3 D's

These are the channels through which McDonald's is serving their customers. Data can be used here to optimise operations, create more seamless digital transformation efforts, and help ensure delivery and Drive-Thru experiences are up to scratch.
The website does not go into details on the problem that exists or the opportunity that these pillars are set to overcome. As a result, you'll have to talk to people that are responsible for implementing these plans and ask them what they could achieve if you got them better data, and what their pain points are when using data today. 
You can also look at what customers are saying about you online, as this might indicate areas where your data is turning off your customers
Looking at Jeff's complaint above, it's clear that there are some data issues with the McDonald's App, causing miscommunication between the company, its employees and its customers. Given that Delivery is one of their 3 D's, you'd think this is the sort of problem McDonald's will want to fix. 
READ MORE: Are your customers paying your data debt?
Set some principles and objectives
Let's assume our data strategy is set out to minimise the number of negative customer complaints we get online about delivery. We trawl through a load of customer feedback and pull out all the areas where the data is causing a problem. We talk to front-line staff and ask how many times these problems surface, and whether there are other challenges behind them. And we evaluate the response. Before setting hard-and-fast rules, we can establish some basic principles that will guide our response:
Data about product availability should be consistent across all McDonald's systems
Order data should be available and clear so our staff can deliver the order in the right place and format
Data about orders should be timely so we can deliver on our promise to provide fast food
These principles will guide our actions and ensure we are aligned against corporate goals. In the absence of clear rules, staff can fall back on these principles. to work out whether we are delivering on our promise.
Create some coordinated actions
What steps are we going to take, in which sequence, to solve these issues? This is harder for us to speculate on as outsiders, as we do not have visibility on the applications used by McDonald's today. Let's assume that they have no data management framework in place, so before we can solve this problem we will need to establish the right power and decision structures to support our actions. Our sequence of coordinated action will be to implement a Data Function Target Operating Model. Let's look at how:
LEARN MORE: How to Create Ironclad Data Strategy your Execs Can't Ignore
How to create a Data Target Operating Model
A target operating model is a future state diagram that outlines what people should be doing, how decisions will be made, and what processes will be followed. In our hypothetical case, we are going to build it from the ground up. In your case, you might find that you have some elements in place already. 
FIND OUT: What is your current data maturity – free report
The two major pillars of your Data Target Operating Model are Data Governance and Data Management. This causes many firms confusion. So let's establish what we mean by each.
Data Governance vs Data Management
Data governance is all about setting the rules and expectations for our data. Data Management is responsible for implementing those rules. 
Data governance roles must be played by business stakeholders, whereas data management roles are more often within I.T. Many firms have the wrong ownership of data. They place the accountability for data in the hands of the system owner, which is not correct. This was the case for 25% of the firms we surveyed in our data maturity research and is a straightforward way to improve data maturity.
READ MORE: The Ultimate Guide to Mastering Data Ownership and Stewardship
When you think about a data domain – let's use the customer as an example – who knows more about that customer? The Chief Customer Officer, or the Head of Enterprise Architecture? Who can tell me what data they want on the customer? Who knows the downside if customer data is lost or stolen? Clearly, the business must play a role in defining their expectations of data. Setting the rules. This is what data governance means.
Data governance is the exercise of executive authority over business data.

Neil Burge, Cognopia CEO
On the flip side, who knows more about integrating the CRM system with the Point of Sale system? The Chief Customer Officer, or the Head of Enterprise Architecture? Who can tell us whether these systems will talk to one another? Who can investigate the data models of these systems? Who is more likely to be able to write a script to check whether all our customer records have telephone numbers? Who could verify whether those phone numbers are in the right format? Clearly, the I.T. experts have a role to play in executing data rules and measuring compliance with our data policies. This is data management.
Who is responsible for data governance?
In our data management framework, we clearly stipulate the need for three tiers of business engagement. 
Executive Sponsorship – we need someone with power and influence on our side to prioritise our data strategy and fund our objectives
Data Owners – establish business accountability for high-quality data. Whose job is on the line if they fail to provide data that supports our enterprise strategy?
Data Stewards – who should be responsible for documenting data meaning, expectations, and enriching our knowledge and trust in the data we have collected?
LEARN MORE: 6 Easy Steps to Win at Data Governance
Who is responsible for data management?
We need to balance the equation and get data management roles populated. This also follows the three-tier structure:
I.T. Sponsorship – most likely the Chief Information Officer or Chief Technology Officer
I.T leadership – Heads of I.T. and Heads of Enterprise Architecture work with the data owners in issue resolution and prioritisation
Data Management Office – data modellers, data quality experts and others that can turn our rules and policies into reality
The data management functional framework
These roles are meaningless unless we organise them into functions. The three main functional groups we have in our framework are:
The Steering Committee – senior executive leadership that sets the overall direction for your data function.

They will fund initiatives and ensure the program is delivering against corporate strategy and objectives.
You probably have many senior level steering committees in action in your firm today, so take some time from these meetings and dedicate it to decisions around the data you create and use.

Our Data Governance Council – the data owners and I.T. leaders need to meet to prioritise the work of the team below them.

This group will measure and maintain progress against objectives 
These senior leaders can break any deadlock decisions that the operational teams can't resolve on their own

The Data Governance Team – data stewards and the data management office "doing the work"

We need business Subject Matter Experts and I.T. resources to model the data, establish data quality rules, and resolve technical data challenges
LEARN MORE: 6 Easy Steps to Win at Data Governance
The framework of data management activities
Now we have established the people and organised them into functions, we have to give them something to do. What are the key activities that you need to implement in your data management framework?
Data Quality improvements
Data quality is almost always the number one output from a data management program. Finding and fixing data errors delivers efficiency savings, and it helps protect your brand. In order to improve data quality, you first must define your expectations for data. The business roles have to do this. They set out their data needs and these are codified into data quality rules.
You'll need 4 things to succeed here:
A data quality issues log, to document problems that bad data is causing your business
A list of data quality rules that the business has established
A data quality dashboard to highlight how well your current data is meeting your rules, and;
A data quality triage process, to prioritise the data quality issues your team will fix first
Our research demonstrates that this is not being done well by organisations at the moment. 29% of the firms we spoke to had no process in place to improve their data quality. Another 54% were working out what they needed as a process. Get ahead of the curve and solve this problem with your data management framework.
READ MORE: Cognopia's Data Maturity Model Research 2021
Data policies and standards
Unsurprisingly, we need to define some standards and policies so all data users in our firm understand what we want them to do differently. To do this, we have to take the principles we outlined in the data strategy phase and turn them into a policy that has teeth. If you recall from our McDonald's example, we set out these three principles:
Data about product availability should be consistent across all McDonald's systems
Order data should be available and clear so our staff can deliver the order in the right place and format
Data about orders should be timely so we can deliver on our promise to provide fast food
How do we turn these into policies and standards? Well, we might start by laying out our policy:
The Point of Sale system will be the authoritative record of product availability
The franchisee will be accountable for the accuracy and consistency of product data
All McDonald's staff will be responsible for the accuracy and consistency of product data
Now we know the golden source of product data, we can leverage this to ensure all systems refer to the Point of Sale data when determining whether a product is available or not.
We assign accountability to the franchisee to make them own the accuracy and consistency of data – if their POS data is bad, it causes. us to get negative online reviews. This hurts our brand. Hence they're accountable if their product data does not meet the standards we have set.
And lastly, we make every employee responsible for the quality of this data. We need to communicate the importance of this to our staff so they can change their behaviours and be on the lookout for bad data.
LEARN MORE: 6 Easy Steps to Win at Data Governance
What about data standards?
Again, we have identified that product data must be consistent across all our systems. But what does "consistent" really mean? We need to define the standard we expect in order that our staff can know whether or not they have met that standard. 
For product data, we need to ensure the SKU (Stock Keeping Unit) data within the Point of Sale system is an accurate reflection of the number of units we have. It's no good if the system says I can sell 27 Big Macs, but I only have enough lettuce to fill 12 buns. 
Our standard will dictate that the POS system data and the McDelivery App data must match. There must be consistency in the available product numbers between the two systems. If we detect that the App is selling products that we don't have in stock, then we have failed to meet this standard.
Master Data Management
Master data describes the key nouns that our business has a relationship with. We need to have "Golden Records" – the source of truth that the rest of our business relies on when making decisions. If we look at a customer record, Master Data Management helps us uniquely identify a customer and understand the entire relationship we have with that individual. 
For McDonald's, it would be really useful if they could know how much they have sold me via their app, how much they have sold me via other delivery services, and how much I've purchased from their stores. This would let them understand what my customer lifetime value is, and tailor their marketing to get me buying from my preferred channel. To do so they would need to be able to uniquely identify me as an individual customer, and make sure the data about my purchases in-store can be linked to the data about my purchases online.
If they have bad master data about me, duplicate records or an inability to link my identities between systems, they are unable to benefit from 100% of the data they have about me.
LEARN MORE: Learn about Master Data in 3 minutes and 16 seconds
Metadata Management
This phrase seems. to bore business people, but it's really just describing the data you have about other data. I can't understand the contents of a row or column in a spreadsheet unless the metadata (column title) describes the contents effectively.
Metadata is just data about other data. It helps us find, understand and trust the information in our firm. Without metadata we lack meaning and context.

Neil Burge, Cognopia CEO
Typically we document our metadata in a business glossary or a data glossary (the terms are interchangeable). List out the critical data elements you have in your business, and get subject matter experts to enrich the metadata so non-expert staff can understand it. 
Learn More: Learn about Metadata in 1 minute and 23 seconds
Data Risks and Controls
Our data is valuable to hackers and bad actors. Our customers and employees entrust us with data about them. We must protect it. IBM has placed the cost of a customer record at $180 in 2021. How many customers have you got? How much is their data worth? What would happen to your reputation if you mishandle it?
Create a data risk register for your business. Talk to your regulators and understand what their expectations are for your data. Whenever there is a risk identified, document it, triage it, and place controls around it that mitigate the risk.
Data Architecture
This is simply the map of the systems you have in your business today. Each system will be responsible for one or more functions. It will be integrated with the other systems your business uses in order to pass work from one team to the next. For example, we may have one system that records sales, and a different system creates customer invoices. If the data between these systems gets out of alignment, you have a problem. 
The data management framework has to take data architecture into account. Ensuring that different systems are interoperable is essential if you want to succeed.
Why do we need a data management framework?
The heart of our data management framework governs the Data Crown Jewels. This is your most important data. If you lose this data, or if it gets corrupted or stolen, your business is at risk. Here's a quick decision-making approach to determine whether data is critical or not:
The reason for identifying CDE's is to avoid "boiling the ocean". You have limited resources. You are not going to work every hour of every day. You cannot feasibly govern every single data element. So prioritise them and focus your work on the data that truly matters.
How do you maintain data governance?
This is a great question, as many data programs end up being cancelled. The average tenure of a Chief Data Officer is 2 to 2 and a half years. This shows that maintaining data governance is not easy.
READ MORE: How to win big in the first 100 days as a new CDO
In order to maintain data governance, we must make measurable data improvements. We have to establish metrics and KPIs that demonstrate our work has value. If you set up your data strategy properly, you'll be doing things with data that align against corporate goals. You need to deepen that and demonstrate the dollar value of the work your team is doing.
The critical change you have to make is along data value chains:
Governing data creation
Data is created by your staff, by your customers, by your systems and by your partners. In the absence of any rules, the data creators are free to type in whatever they like. This has a knock-on impact in our Critical Data Flows, and it negatively impacts our business processes (e.g. sending incorrect invoices is costly and inefficient). 
Most of the root causes of bad data stem from bad data creation. Training staff, changing data capture processes and making it easier to input the right data is critical if we are to make lasting change.
Governing data consumption
It's easy to blame the data creators for making a mess, but unless there's guidance on what "fit for purpose" looks like, who can blame them? If you allow me to enter a new customer in a free-form field rather than searching and using an existing record, is that my fault? In order to set the rules on what's expected, we need to look at the data consumers and identify their data needs.
We also need to educate the data consumers. Middle management are often part of the problem. 
Just give me the data

Middle management, everywhere
I worked in one firm where the head of delivery wanted a Project Start Date added to the CRM system. This was so he could predict when the projects would start, and plan the resources he needed to deliver. All of this makes a lot of sense. The problem was this data consumer demanded that the new field was implemented. It took 3 weeks before deals had close dates that were happening later than the project start date. 
If the company had a data management framework, they could have pushed back on this request. The same information could be gained by setting a rule that projects can only start 3 weeks after the deal closes. The head of delivery can then forecast demand using the close date (which is invariably wrong in every sales forecast anyway) and the sales team don't need to waste time creating even more inaccurate data.
LEARN MORE: 6 Easy Steps to Win at Data Governance
Change management and continuous improvement
The previous section looking at data creators and data consumers shows that we have to change the relationship our staff have with data. Unless we change their behaviour, our data will remain bad. No amount of technology will fix it.
This part of the data management framework supports all of the efforts we are making. Yet our research shows it is seldom thought of. No wonder Chief Data Officers don't last long. 
Companies are not investing in training related to data. 61% of firms have no budget set aside to train their staff on these important topics:
Ensure you work with your people to make their lives as easy as possible. Changing behaviour is hard. It takes time. Thinking about how to make this change less scary is essential if you want the changes to stick long-term.
Corporate Organisational Model
All of this is completely useless unless you align the data management framework against your existing business structure and model.  If you try to establish a data management framework that is totally at odds with the way your business works today is a pathway to hell.
Most organisations find themselves somewhere on the spectrum between these two options. Data Management Frameworks can be a hybrid approach with some core decisions made centrally and flexibility given to business units or departments to vary from these standards when they need to.
If you ensure the data management framework you create is fit for your business, you'll be much closer to success.
Data Management Framework FAQ
Let's answer some typical questions to help ensure you can apply what you've learned.
Who creates and maintains the data management framework
In most organisations, this responsibility lies with the Head of Data Management. Some have a Head of Data Governance and the terms are used interchangeably. In other times this bubbles up from a Head of Data Analytics or is mandated by a Chief Data Officer
The framework should be a living document. Constantly refine and improve the processes and replace people if they are not achieving your objectives.
LEARN MORE: 6 Easy Steps to Win at Data Governance
Who is responsible for data strategy?
If you have a Chief Strategy Officer or Head of Strategy, they should be responsible. You can partner with these resources and help them understand the power of the data your organisation holds. Business stakeholders need to be engaged – from the CEO down – to ensure data in your organisation is used to unlock enterprise ambition and value.
LEARN MORE: How to Create Ironclad Data Strategy your Execs Can't Ignore
What are the data management framework components?
Read the article above! You have to get the right people, processes and scope for your data management framework to succeed. the framework we have shared here is a good starting point for any business.
How do you create a data management framework?
That's the reason we wrote this article. Our data maturity research shows that many companies are missing key pillars that cause their framework to fail. By taking the steps we have outlined here and applying them to your firm, you'll be well on your way to data success!